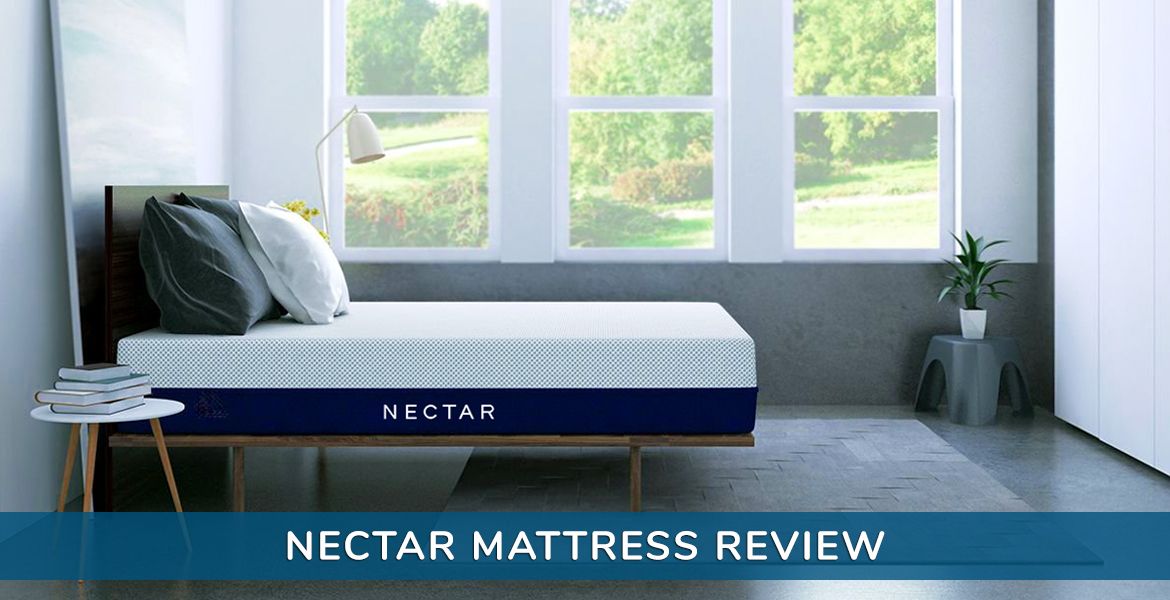 Do you usually sleep on the stomach and in the morning suffering from shoulder and hip pain? What about sweating in the middle of the night? Well, if you are dealing with any such issues, then I think it is time for you to buy a new mattress.
The Nectar Bed is an affordable and an amazing investment that you can make for your bedroom. It offers many benefits and layers or comfort that can easily contour to your body's shape. This Nectar Mattress Review focuses on talking about the benefits of this mattress and why you should invest in this bed.
So keep on reading to find out!
In this review, we will be evaluating the Nectar Memory foam mattress completely. This mattress is 11 inches thick and is a plush mattress that provides the user with many features and benefits. Nectar is known for its classic feel and its ability to deliver the sleeper with a comfortable and satisfying sleep every single night.
Due to this mattresses' unique firmness level and its guarantee to provide it, it is quickly gaining fame and favor in the market. The innovative system embedded in Nectar Mattress along with its ability to conform and support your body at a reasonable price is attracting many people.
You can also depend on Nectar Mattress reviews given by customers and follow up on the warranty they provide in order to decide whether this mattress is worth your money or not.
What Type Of Mattress Is Nectar Mattress?
Nectar Mattresses are well-rounded mattress with proper levels of support and a very dense structure made with foam. This Nectar Mattress is designed and manufactured with an exclusive breathing airflow and a woven fabric. It also contains the traditional memory foam along with other unique features.
This mattress is without a doubt a very modern mattress in its look and features, and it allows sleepers to get a cool and comfortable sleep all night long. With its combined performance of its cooling system, the top layer of gel memory foam and a quilted cover infused with Tencel, help in making Nectar Mattresses stand out in the market.
Each specialized feature of this mattress helps in making it feel brand new for you and provides you your money's worth.
You Will Like Nectar Mattress If You:
You Want Premium Materials At A Good Price
Nectar is without a doubt a great mattress according to its price point. Its warranty, trial period and entire feel are above average; its softness and comfortable nature is very impressive for its cost, and this mattress has premium quality. The materials used in this mattress are quality materials, and this makes this mattress stand out.
Are A Sleeper Who Prefer Memory Foam Feel
Nectar competes with some big brands name in the Tempurpedic mattress community; however, you won't have to empty your pockets in order to purchase it. The mattress market contains foam mattresses that are good to look at; however, they don't have a very luxurious or substantial feel to them. Nectar, on the other hand, feels like a high-end brand that is affordable for you.
Like To Sleep Slightly Hot
This mattress consists of many layers (as mentioned further in this article) and one such layer is the gel infused memory foam layer that focuses on keeping this mattress cool at night. However, even with this layer, this mattress traps little amount of heat so that you do not feel very cold in the winters. For this reason, you have a moderate temperature while you sleep and a more relaxing feel.
Want To Buy It Online But Are Scared That You Won't Like It
This is the number one issue buyers face when buying a mattress online. They want to invest in a mattress but are scared of how it will feel and work for them. If this is the problem with you, then do not worry anymore. As mentioned down below, Nectar provides its user with a yearlong trial. This is more than what most mattresses offer and having such a long trial period will definitely help you figure out if this mattress is the one for you.
Will Use An Adjustable Base
If you have an adjustable base or plan on using one, then this mattress will be perfect for you. Nectar mattress performs very well on the base; it will bend easily and will get back to its flat position once you are finished inclining. An adjustable base will also add comfort to your sleep and help with issues such as snoring and acid reflux.
Want A Forever Long Warranty
If you are looking for a long warranty, then this mattress is perfect for you. Nectar Mattress are confident about the quality they provide and so have a forever warranty as well.
You Will Not Like Nectar Mattress If You:
Nectar Mattress has a more medium to medium firm feel. However, if you want a very soft mattress that is not too firm, then Nectar is not the one for you.
Prefer Coiled Pads And Foam
If you have already tested memory foam mattress and did not like them, then Nectar will not change your mind. A foam mattress has the best pressure relief abilities and provides good motion isolation, but some people want a more bouncy feel. For this reason, they must go for an innerspring or hybrid mattress.
How Firm Is The Nectar Mattress?
Unlike many other mattresses in the market, Nectar Mattresses are constructed with a single firmness level- medium firm. When measured on a firmness scale this level is a 5 out of 10; it is ideal for a majority of the people today, and this makes Nectar a great mattress.
Recent studies show that today most sleepers want to sleep on a mattress that falls between a 5 and a 7 on a firmness scale and so Nectar Mattresses fit this level. It is a high-density memory foam mattress that is durable, contours to your body shape and hugs the sleeper allowing them to sink into the foam.
Nectar Mattress does, however, have a very slow response time, and this might tick you off if you are very fussy about your mattress. This means that when a sleeper changes his or her position in the middle of the night, the instant response time of this mattress is weak. Instead, Nectar Mattresses can take several seconds before they can mold and contour to the new position.
This can be a great source of relieving pressure to some sleepers and providing others with the support that they are looking for. The overall support of the Nectar Mattress is incredibly good; regardless of the fact that you are a side, back or a stomach sleeper. The reason behind this is that its 1" gel memory foam cover and the 3" layer of memory foam work together to provide you with the kind of support you are looking for.
Together, all the features of Nectar Mattress work with one another in order to deliver consistent support and pressure relief.
How Many Layers Does Nectar Mattresses Have?
Nectar Mattress allows the body weight to be distributed evenly throughout the surface, molding, and contouring to your body shape. This 11" memory foam mattress is constructed with a quilted cover along with two additional foam layers; the layers include:
For sleepers who are very concerned with bedbugs can relax now due to Nectar Mattresses. The cover of the Nectar Mattress makes use of Tencel cooling technology as a preventive measure to decrease the chances of these bloodsucking parasites. Since these parasites are prey on you when you're incredibly vulnerable, this cover by Nectar will protect you.
This material is bug resistant and is also aims at keeping you cool. It helps in promoting air circulation and ensures that you have fresh air to breath whenever you want to change position.
But that's not all; this cover is also very important in order to keep your mattress clean. If you spill something on the mattress, your cover will protect the entire mattress from getting ruined. If you need a fresh new cover, then you will just have to call Nectar Mattresses, and they will deliver a new cover to you without any additional charges at all.
You can read about the outlook of this cover further in this Nectar Mattress review.
Right underneath this extraordinary cover is a one-inch layer of quilted gel memory foam. This layer has many purposes such as providing a comfortable height for the sleeper to sleep in, a proper loft for good circulation and added contour for your body to get molded in.
No matter what position you lay on, this mattress has the ability to conform to your body with ease. This layer aims at providing you a feel of sleeping on a cloud that you will love. This comfort layer is quilted in a premium way which most companies tend to avoid in order to decrease the manufacturing cost, but the premium processing used in Nectar Mattress makes it worth your money.
This layer is designed in a way to provide you with utmost comfort and a great cooling effect; it helps in pulling your body heat away from you while you sleep.
Next is a three-inch layer made with Nectar Mattresses patented LushFoam; this is the most premium type of gel memory foam available today. It is due to this layer that your body weight gets distributed evenly all over the mattress and this layer helps in soothing the pressure points. This LushFoam by Nectar Mattress holds five patents and is one of the most high quality gel foam available.
This is an expensive foam to manufacture and produce. This foam directly absorbs the heat and distributes it; it also recovers to its untouched and original state perfectly.
Now, this layer is a ½ inch layer made with adaptive hi-core memory foam. If you are hearing the name of this material for the first time, then this is because there is no direct to consumer mattress company today that creates these Hi Core Adaptive Foam today. No mattress companies have this material embedded inside their products apart from Nectar Mattresses.
The reason behind this decreased usage of Hi-Core memory foam is that this material is very heavy and due to its weight, shipping this product is very expensive. This high quality adaptive foam is an optimal inner layer focusing on the confirming of your body shape and pressure points. If you are a deep and heavy sleeper, then this material and feature can help in improving your sleep significantly.
This is the last layer of the Nectar Mattress. It is made with high-density memory foam and is 5 ½ inches thick. This layer is also known as the breathing bases layer. It is molded in a way that it draws in fresh air through special channels. This increased ventilation provides the user with healthy sleep and provides the user with good stability all through the night.
The materials used in the manufacturing of Nectar Mattress are very impressive. All of the above layers work with one another in order to provide you with the sleep you have been searching for in your life. With so many layers present in the Nectar Mattress, the price point is no doubt very affordable.
Keep reading this Nectar Mattress Review to find out how it performs in transferring motions and sinkage and what is its price in the market.
Nectar Mattress; Sinkage And Motion Transfer
Nectar Mattress like many other memory foam mattresses has the ability to absorb motion easily. This helps in saying goodbye to any disturbance caused by sharing of bed; if you have a weak sleeping pattern than sharing a bed with your significant other can be very difficult especially on a mattress that allows motion transfer.
Nectar Mattress, however, has a dense foam feel. It does not have a bounce-y feel to it and so provides the sleeper with low motion transfer. Nectar Mattresses also have the ability to control motion transfer if you are looking for a more peaceful sleep experience; this provides the user with no motion and not an excessive bounce. For this reason, Nectar Mattress can be perfect for you.
Does Nectar Mattress Sleep Hot?
Unlike many memory foam mattresses present in the market that are warm for the sleeper, Nectar Mattresses provide the user with a high level of cooling. The top layer of gel memory foam infused with the Tencel cooling cover, work with one another to keep your temperature cool and comfortable.
However, this Nectar Mattress is a high-density memory foam mattress, and so some sleepers may find this mattress to be somewhat warm as compared to coil, hybrid and latex mattresses.
However, Nectar Mattresses are one of the cooler memory foam mattresses present in the market today.
Does Nectar Mattresses Have Any Smell?
Similar to other mattresses, Nectar also has a strong smell once it comes out of the box. This smell remains in the mattress for at least two days straight. However, after two days have passed, the smell starts to dissipate and by the end of the week, this smell is no longer there.
Nectar understands how some people can get ticked off due to its off-gassing which is why they recommend their users to let their Nectar Mattresses in an open room with windows to let the smell out before you can actually sleep on it.
Does Nectar Mattresses Require A Foundation?
No, Nectar mattress does not require a foundation, however; you can place it on any foundation that is firm. Nectar Mattresses can sit directly on a flat firm platform, a box spring or other supportive surfaces. Moreover, these mattresses can also be used with adjustable bed frames that can provide accommodation to an 11" mattress.
You can also use the Nectar mattress directly on the surface of the floor if that is what you prefer. But you must make certain that your Nectar mattress is not exposed to excessive water or moisture. This can ruin your mattress forever.
How Does The Cover Of Nectar Mattress Look?
The Nectar Mattresses cover as mentioned above is ideal for air circulation and provides a plush feel. This cover is made from a balanced mixture of cotton and Tencel. This material is created in China and has a unique composition. This composition helps in contributing to its features such as softness, cooling, and a satisfactory feeling overall.
Apart from its superior composition, the Nectar Mattress's cover is very satisfying to look at even though it has a very basic outlook. This cover has classic gray side panels, a checkered pattern and a top layer of white fabric. The logo of Nectar is delicately imprinted inside the fabric to add a personal touch.
The best thing about this cover is that it can be unzipped easily. This provides the user with easy cleaning; in case you spill something on the cover just clean the spot by unzipping this cover and without damaging the mattress.
Another added benefit from Nectar is that these Nectar Mattresses allow their user with a one-time replacement offer. This way you can replace your new cover and get a brand new one instead of completely free. Avail this option when your cover gets torn, damaged or stained.
How To Take Care Of Your Nectar Mattresses?
Memory foam mattresses require proper maintenance in order to have a long lifespan.  Memory foam mattresses are a great investment and so treating them right is very important; some common ways people look after their mattress includes:
Vacuuming them; if your pet sleeps on the bed, then they are bound to leave their hair behind. For this reason, you must clean the mattress with a vacuum so that no hair is left.
Cleaning stains; avoid using harsh chemicals that can harm your mattress
Placing it in the sun to disinfect it naturally
Rotating and flipping it
Tucking natural sachet under the sheets
The Nectar Mattress, however, requires no flipping at all. It is asked that you rotate the mattress at least once a year; this prevents the mattress from getting worn out and also from excessive sagging. As a routine cleaning of the Nectar Mattress, it is advised that you use cool water and a very mild detergent to clean any stains and dirt present on the mattress.
Also, make use of circular motions and gentle pressure while cleaning. Do not ever rub the stains.
How Durable Is The Nectar Mattress?
Nectar mattresses have a very long lifespan, and they perform very well in this category as compared to other memory foam mattresses. The reason behind its alarming durability is the premium quality materials used in its manufacturing. These materials meet all industry standards.
Even though these mattresses are manufactured overseas, Nectar company guarantee that the quality used in its making is top notch. They enforce production protocols, and they make sure that every single mattress that gets shipped is inspected in their facility in Seattle before it gets shipped to the customers.
According to the Nectar Mattress reviews, this mattress gets a very high satisfaction rating, and this helps to make it more popular day by day.
Size And Shipping Of Nectar Mattress
The Nectar is available in general sizes which include Twin, Full, Twin XL, Queen, King, and California King. These mattresses are easy to lift and carry from one place to another; they weigh 45 pounds to 89 pounds and provide the consumers with an easy and quick set up.
Nectar mattresses also provide their users with white glove delivery option. This option provides the consumer with assistance that they require during setup. The shipping of this mattress is completely free in the contiguous United States. However, it requires additional charges for shipping in Canada, Alaska, and Hawaii.
The price of different sizes of mattress varies; you can read more about Nectar Mattress cost further in this review.
Nectar Guarantee And 365 Night Risk-Free Trial
Nectar is very confident about their product, and for this reason, they stand firmly behind it by introducing their 365 day trial with money back guarantee. Purchases get a full year to try out this new mattress and enjoy it in order to figure out if this is the mattress they are looking for.
If you do not sleep comfortably and decide that Nectar Mattress is not the mattress for you, regardless of any reason, just simply contact their company, and they will pick it up. Nectar promises to not only pick the company but also refund the money 100%.
However, according to the Nectar Mattress reviews and customer feedback, the return of this mattress has very low chances.
How Is Nectar Mattress's Warranty?
Nectar Mattresses come with their Nectar Forever Warranty. This warranty guarantees the durability, construction and other concerning factors of a mattress. The warranty details of this mattress, as listed on Nectar's website include:
For the first 10 years of ownership, Nectar promises to replace this mattress with a brand new one without any additional charges due to flaws and defect in the material and workmanship. For more than 10 years, Nectar promises to recover and repair your mattress completely; if the defects are too deep to be fixed, Nectar will replace the mattress. Also, all transportation costs will be waived if a defect in manufacturing or material has been found.
Another thing offered by Nectar as part of their forever warranty is their "Choice Option." If you choose this "Choice option," then you will keep your original mattress. This is your choice to make, and instead of Nectar repairing and fixing the defects in the mattress within ten years, they will offer a brand new mattress at half the price you paid before.
To keep the warranty valid, you must use the mattress on a proper foundation or a base, for example, a suitable bed frame or a platform bed.
This warranty is also applied only to the original owner.
This warranty is only valid if the mattress is not burned, damaged, neglected, misused or abused.
In order to provide a long and healthy sleep all through the night, Nectar makes use of the most premium quality materials. Similar to all other sleeping products, certain changes take place that causes the mattress to adjust to your body's shape. This is expected of the Nectar mattress as well and is part of its performance. You must be aware that normal body impressions are not greater than 1.5" and they are not considered defects and so aren't covered by the warranty. However, body impressions great than 1.5" are covered by the Forever Warranty and are covered for forever.
This warranty offered by Nectar Mattress is another reason for its success in the mattress market and its above average rating according to the Nectar mattress reviews.
The price of the Nectar Mattress depends and varies according to the size that you choose. It also depends on whether or not you opt for additional accessories and make use of their white glove services.
Mentioned below are the price point, dimensions and weight of each Nectar Mattress.
| | | | |
| --- | --- | --- | --- |
| Size | Dimensions | Weight | Price |
| Nectar Twin Mattress | 39" x 75" x 11" | 45 lbs | Check Price |
| Nectar Twin XL Mattress | 39" x 80" x 11" | 48 lbs | Check Price |
| Nectar Full Mattress | 54" x 75" x 11" | 68 lbs | Check Price |
| Nectar Queen Mattress | 60" x 80" x 11" | 74 lbs | Check Price |
| Nectar King Mattress | 76" x 80" x 11" | 89 lbs | Check Price |
| Nectar California King Mattress | 72" x 84" x 11" | 89 lbs | Check Price |
Nectar Mattress represent a groundbreaking value in the bed-in-a-box industry. With its premium quality materials and construction used in order to provide support and comfort can be seen clearly in this mattress. This mattress has a cozy uniform feel making it ideal for all types of sleepers.
As compared to the features this mattress provides, the price point is very affordable. Nectar offers their customers with a generous sleep trial and a long warranty so that they can be satisfied with their product. This memory foam mattress is exceptional and a great investment you can make. If you always wanted to try out a memory foam mattress but were not ready for it, do give this mattress a try and be ready to fall in love!
Nectar Mattress: Pros & Cons
Just like every other mattress, Nectar also has some advantages and disadvantages. These include:
Has good conforming abilities and provides excellent motion isolation
Is a high density memory foam mattress with an affordable price point
Is not noisy at all
Provides a yearlong trial and has a forever warranty
Has weak edge support
Has a single firmness level
Might have some issues with customer support
Excellent!
With such amazing features, premium quality materials, forever long warranty and a 365-day sleep trial, Nectar definitely is an investment you can make.
Temperature Regulation
9.4/10
Support And Comfort
9.5/10